Retired minister to walk 80 miles for his 80th birthday
Last Updated: August 10, 2021 This post was written by Clive Price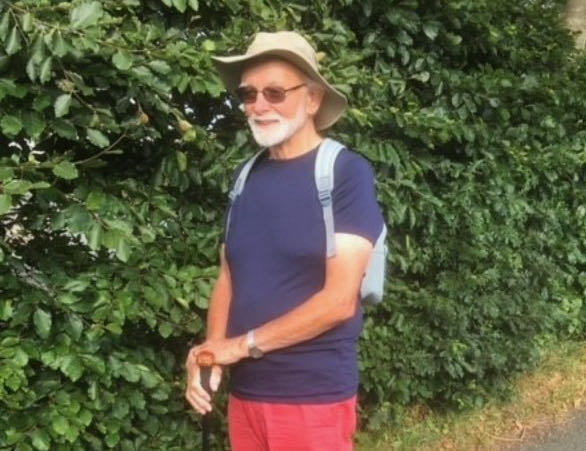 Conventional ways of celebrating your 80th birthday might include – a garden party, afternoon tea, a classic film night or even a country retreat. Not for Revd Charles New.
An MMHS board member and resident, Charles (pictured) has decided to mark his becoming an octogenarian by slogging down a disused railway track for 80 miles.
'I'll be walking 80 miles to celebrate my 80 years,' said Charles, who lives on The Wirral, the peninsula that separates North Wales from North-West England.
It's a place linked to Arthurian legend. Charles may find himself tracing the tracks of Sir Gawain who allegedly travelled across 'The Wyldrenesse of Wyrale'.
'I decided to do something daft anyway – just for reaching this age. You don't set out thinking you're going to last this long!' It also marks the 50th anniversary of his ordination.
Charles has also decided to use this opportunity to raise money for the MMHS Wellbeing Fund. 'I'm doing the walk anyway,' he said, 'but I thought I could fund-raise as well.' He has his own fundraising page for supporters.
Don't worry, it's not a flash in the pan. Charles and wife Doreen are no strangers to walking. 'It's always been part of our lives,' he explained. 'We walk every day if we can.'
He's modest, really. With friends, Charles has completed Wainwright's coast-to-coast route from St Bee's Head to Robin Hood's Bay and walked through Wales from Snowdonia to the Gower. The 216-mile hike is officially designated as 'challenging'.
On his 80-4-80 walk, he'll be following The Wirral Way. This path is on the track of an old railway that goes from West Kirby to Hooton.
The walk is situated within Wirral Country Park, looking out over the Dee Estuary to the Welsh shore. If it's clear enough, Charles will enjoy a view of the Clwydian Hills.
Although he's used to tricky treks, Charles plans to tackle his birthday beat in ten-mile sections over three different routes. 'I'm not yomping across the countryside!' he joked.
Of course, he's made sure there are strategically placed cafes along his chosen path. Charles has scheduled the walks for 8-11th and 13-16th September. His birthday is on 29th August.
Preparation has already begun. 'Our daughter Sarah and I did a ten-mile route a couple of weeks ago – to check that I could actually do it!' he said.
Charles studied for the ministry at Methodist Theological College, Handsworth, from 1965-9. He was ordained at the Harrogate Conference in 1971. Charles has served churches at Swinton and Pendlebury, Moreton, Irby with Woodchurch, and Wilmslow with Styal.