Our Charles raises nearly £1,500 by walking 80 miles to mark 80 years!
Last Updated: October 4, 2021 This post was written by Clive Price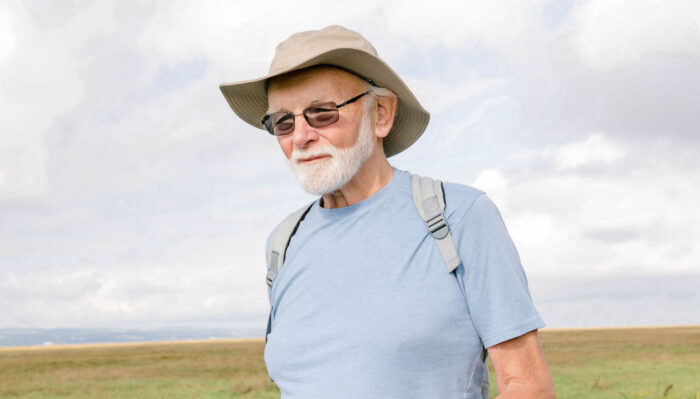 Nearly £1,500 will help boost our residents' wellbeing – thanks to retired Methodist minister Revd Charles New, who's just completed an 80-mile walk to mark his 80th birthday.
He finished his final lap on 16 September – despite having two artificial knees, shifting a stubborn horse and dodging hordes of hoodie-clad mature ramblers. And donations have still been coming in, long after Charles' walk.
Charles managed his '80-4-80' peninsula pilgrimage across The Wirral by covering ten miles a day in eight days. He hiked on The Wirral Way – a disused railway track past stunning locations like an atmospheric old train station and sweeping views across the River Dee to the Welsh hills. A horse blocked his path and he had to gently push the animal aside!
As a spin-off to his birthday celebration, he launched a fundraising page on the web. Family, friends and anonymous supporters sent donations ranging from £10 to £100. Givers added such heartfelt and humorous messages as – 'A legend indeed' and 'There's life in the old dog yet'.
Supporters' gifts will go towards the Wellbeing Fund of the Society, of which Charles is a board member and resident. He said he is 'very grateful' to all those who gave donations.
As well as celebrating his 80th birthday ­– which was earlier, on 29 August ­– Charles' quest also marked the 50th anniversary of his ordination. Entering Methodist ministry took him to extremes – from working on a grey and gritty housing estate in England to the sun-bleached shores of the Bahamas.
He is no stranger to walking, having completed the famous 'Coast To Coast' challenge and the long Welsh wander from Barmouth to the Gower Peninsula – both around 200 miles long. 'My wife Doreen and I try to go out every day for a two-mile walk to buy the paper,' he said.
Charles' knees were replaced more than five years ago with titanium implants after playing football as a youth often left him in pain. 'I've often struggled with my knees,' he said. 'So it's one of the wonders of modern medicine that I can do this walk.'
Will Charles go for 90 miles on his 90th birthday? 'Doreen will be pushing me in my wheelchair,' he joked. As gifts are still coming in for Charles' walk, his personal fundraising page will remain open for a while longer.
The Society's Wellbeing Fund provides support in the areas of mobility and independence, offering a range of assistance from remote control window openers to robotic lawnmowers. (Pics: Rachel Beekman Photography)