Share your story of caring
Last Updated: October 11, 2017 This post was written by Clive Price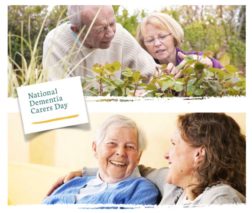 How do you – or a carer you know – support someone living with dementia? The organisers of National Dementia Carers' Day – which took place on 10th September – want people to share such stories.
GREAT SUCCESS
NDCD was 'a great success' on social media, the organisers told us. A number of guest bloggers submitted content. Unfortunately, individual stories were small in number. However, NDCD are still interested to hear people's stories and share them.
As many of us have experienced, caring for a loved one with dementia poses many challenges. Perhaps you can share what it means to be a carer. National Dementia Carers' Day (NDCD) say all submissions will be read and may be shared as part of their work.
The day is an annual event, and the hope is that NDCD 2018 will be bigger than ever. The initiative is founded by a coalition of partners – SweetTree Home Care Services, Dementia UK and Alzheimer's Society.
GOD MEMORIES
Quite separately from NDCD, over recent years a number of resources have been produced by various organisations, looking at dementia from a faith perspective. These include:
– Dementia: Living In The Memories Of God by John Swinton (William B Eerdmans, 2012);
– Where Memories Go: Why Dementia Changes Everything by Sally Magnusson (Two Roads, 2014);
– First Steps To Living With Dementia by Simon Atkins (Lion, 2013);
– Creating Church At Home: For Older People Living With Dementia by Patrick Coghlan (Kevin Mayhew, 2016);
– Dementia: Pathways To Hope by Louise Morse (Monarch Books, 2015);
– Prayers For Dementia by Fay Sampson (Darton, Longman and Todd, 2017).
'When you're caring for a loved one with dementia the world can be a very lonely place sometimes,' said Nicki Bones from SweetTree Home Care Services. 'Raising awareness is vital if we're to build dementia-friendly communities.' For more information and to share your story about living with dementia, visit here.