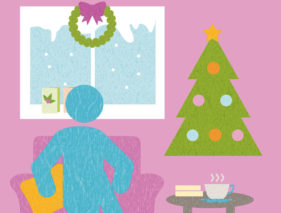 It's the most wonderful time of the year, as the song goes. But Christmas is not without its challenges.
To help us all survive the festive season, national charity Independent Age has produced Your Guide To A Stress-Free Christmas.
CHECK ON PEOPLE
Available as a free download – and covering England only – this publication offers advice including:
– tips on budgeting;
– family relationships and visits;
– things to do if you're feeling lonely;
– celebrating with someone with dementia;
– managing Christmas following a bereavement;
– Christmas and care homes.
There are plenty of useful tips, such as – you don't have to spend more than you want to; consider making presents, such as cakes, photo albums or home-made felt decorations; and check on people you know if you're not sure how they're feeling about the festive period.
The 28-page advice guide offers helpful guidance on celebrating Christmas with someone with dementia. For instance, the booklet says don't overwhelm such people with too much food and drink – and make sure they stay hydrated. Dementia can affect appetite, so they might be happier with smaller portions.
VISITING FAMILY
Practical issues relevant to many of us are explored such as – if you're visiting family, is their home accessible to you? If you need a downstairs bathroom, will that be available? If people are staying with you, will they help with the extra catering and household chores? How will you feel about disruptions to your daily routine?
Sensitive advice is offered to those whose friends have lost a loved one. 'If someone you know has been bereaved,' says the booklet, 'take your cues from them but show you're available if they need support or company. Allow them to grieve and feel sad – don't push them to suppress their feelings and pretend to be happier than they are.'
To order free copies of Your Guide To A Stress-Free Christmas, visit the Independent Age website or call their freephone helpline on 0800 319 6789. (Pictured is the cover image from the advice guide)