"Once we'd seen the view from this house, we knew this was the place for us. And now that the considerable work has been done, the house itself is beautiful and we consider ourselves very fortunate indeed to live here." – The Rev and Mrs David Copley
Whatever donation you can make, it helps us in so many ways. Housing a retired minister with nowhere to go…providing a home for a bereaved partner and children… carrying out vital repairs to safety features…adapting a home so an elderly person can stay in it…we can use whatever you give us, large or small, to make our tenants' lives more comfortable.
In the financial year ending 2015, the Society received around £284,000 in donations and legacies. Every financial gift helps us provide housing at a low rent to all our tenants.
Some tenant stories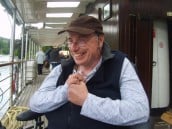 After a 27-year career as a Methodist minister in the Nottingham and Chester areas, Reverend Graham Evans found himself taking early retirement on health grounds.
The Methodist Minsters' Housing Society worked with his local circuit in Chester to buy his three-bedroom bungalow so that he could remain in the area with his family. Graham is now a full-time wheelchair user and the Society has also helped adapt the bungalow.
Graham says, "I was planning to work for at least another ten years, so early retirement was something that I hadn't planned for. The Methodist Ministers' Housing Society was extremely helpful and understanding as my children were still at home and taking them out of the area would have disrupted their lives, particularly as one was still at school. The Society worked with my local circuit to buy the house that I was living in and they have subsequently paid for it to be adapted for my wheelchair."
Remaining in his old circuit has meant that Graham can still occasionally preach and help out in the local community when he can, including some informal counselling and supporting Methodist ministers in the Chester and Stoke area.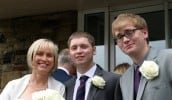 Sarah Wilson and her two sons lived in Stockport in a house provided by the Methodist Ministers' Housing Society. Following the death of Sarah's husband (a Methodist Minister) from cancer in 2003, Sarah approached the Society for help with housing.
Sarah says, "When we found out about my husband's cancer, the minister who was Chair of our District called the Society to see if they would be able to help us in the event of his death.  At this time my husband had been in active service for 10 years. Our situation was also made difficult by the fact that I was only working part-time as a teacher, and not earning enought to buy a house in what was an expensive area. Our insurance company turned down the claim for critical illness cover and subsequently life insurance. We felt anxious about our circumstances but luckily the Society was able to help."
In August 2011 Sarah remarried and moved into a new property she bought with her Husband in East Yorkshire. She has been appointed headteacher of a school in Hull, and her sons are now young adults.  However, she remains very grateful for the support of the Housing Society. "The home we were provided with was a place of solace and healing. It enabled us to rebuild our lives in a familiar environment. We were sad to leave it, but remain very grateful for its provision."